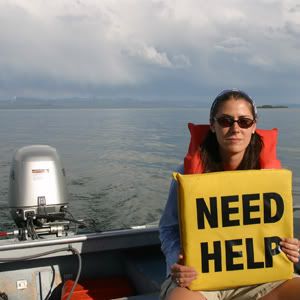 I'm very much a loner and would never have thought of reaching out to others. It was when I was studying the benefits of individual and group therapy did I wonder if I was at a disadvantaged because I didn't reach out, especially regarding weight loss. That was when I decided to see various people about my problem (before then I had relied solely on books). First I tried
Weight Loss Buddy
. I partnered with someone to support and in turn be supported by via email. Well, my weight loss body started emailing me those mass emails, which I hated. But I had a hard time communicating this, so instead I canceled my email account. My second attempt was with the nutritionist at the school. I met with her a couple of times and she re-introduced me to the food pyramid. I lost quite a bit of weight but couldn't lose anymore. Although I learned to eat my fruits and vegetables, I didn't learn to cut down on fat. Then I tried the support groups,
Overeaters Anonymous (OA)
,
Weight Watchers (WW)
, and
TOPS
. All three, I had ran away from as if there was a contagious disease in the room. I went to two OA meetings, which was enough for me to say it wasn't for me. The tone of the meeting was spiritual, which I find I am not so much, and the meeting lasted forever. TOPS meeting was also too long for my taste, and the meeting place had a strong smell of tobacco smoke, which I didn't care for. Needless to say I didn't return after the first one. Then there was WW. I liked the shortness of the meeting, but I didn't like how commercial it was. All along the walls were items for sale. And I didn't like the points system. One meeting was enough for me.
Then I tried blogging, which I'm still doing today. All three of the support groups that I sampled were quite large that I never had a chance to share my story. Even if I had stayed there for a year, I felt I wouldn't have a chance to speak. Blogging, I found my soapbox and I found wonderful support and feedback from my readers (Thank you readers!).
Lastly there's
Spark People (SP)
. With SP, I was able to keep track of my calories (something which I have struggled with in the past). Also, I was able to meet tons of people quickly. With blogging, searching for active blogs to read was quite challenging. Also with SP, I met someone whom I really would like to see be successful, which have changed my perspective of the weight loss community. In the past, I saw the weight loss community as a group to share my struggles with. Now I see it as a group I would like to support and encourage.
When I was interning at the hospice, a chaplain had said, "What matters in this life is more than winning for ourselves. What matters in this life is helping others win." I found this to be true with my weight loss journey. When it was only for myself, I lost motivation quickly. Now that I also do this with the hope of encouraging others, I haven't lost motivation since.